The RCI Painting Advantage
The Real Benefits of Choosing Us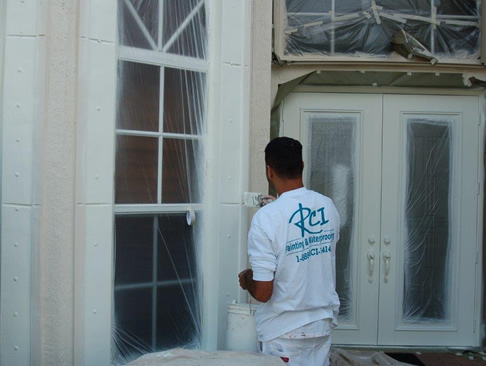 As the head of a Home Owner's Association, choosing the right painting company can be both stressful and time consuming. After all, the decision you make won't only impact your job, but it can also lead to complaints from dozens of unhappy residents. Or perhaps you're a business owner who is eager to get your office building painted once and for all. Not only will this be a critical step in your entrepreneurship, but having the perfect coat of paint can be the final step in attracting the customers that you want.
No matter what the case may be, choosing RCI Painting will certainly be a step in the right direction. Today, we will highlight five aspects of the RCI advantage that will highlight some of the benefits you will get when you hire RCI Painting – Rainbow Colors, Inc.
Experience and Tradition
For 27 years, RCI Painting has been one of the more reputable painting companies in all of South Florida. The family owned and operated business started out on the principle of working hard and doing whatever it takes to make the customer happy. Today, even though the company has grown drastically, we continue to service our customers in the South Florida area with the same vigor and pride as we did when we first started out in the late 80's. Like in any field of work, experience matters and there is something to be said about tradition. At RCI Painting, we have a tradition of hardworking professionals who get the job done the right way the very first time. Make the right move and choose RCI Painting today!
Top-Notch Painting Contractors
When you choose us, you will connect with versatile painting contractors who will do everything in their power to make your project a success. We know that some people think about a lazy crew joking around and dragging their feet when they envision local painting contractors. However, the ones at RCI Painting are nothing like this. We take great pride in our strict training program. It is one where we coach our employees to put the customer first by forming a strategic plan for each and every assignment. This is where questions are asked such as: What exactly does the customer want? How can I provide affordable options that will help the customer save money? What tools and equipment will be needed in order to make this project a success? Choose RCI Painting now and work with the licensed and insured painting contractors who will give you their undivided attention and get the job done without cutting any corners.
Versatility
In addition to being home to some of the most established painting contractors in the state, RCI Painting also offers unmatched power washing services. If you're a business owner, you know that it's true that the first impression is a lasting one. This is one of the main reasons why you can't afford to have dirty grounds surrounding your business. Over the years, our power washing experts have cleaned everything from retail stores and government buildings to garages and gas and service stations. So no matter what kind of commercial building you own, our staff has the right tools to rid it of dirt. Keep in mind that our power washing services as just as effective in HOA communities. With a combination of our low pressure technique and our use of Eco-Roof® Cleaning, an environmentally-friendly, time released cleaner, we will make your community look like new. Regardless of whether you need to brighten your dirty sidewalks or clean the exterior of the community clubhouse, our dedicated staff will be able to get the job done in a timely manner.
An Unmatched Network
When you hire RCI Painting, you will not only connect with our dedicated, hardworking employees, but you will also be able to take full advantage of our network of professionals. Regardless of whether you need roof cleaning from our affiliates Fiddler Roof Cleaning or you just need discounts from Benjamin Moore Paints, Dulux, Sherwin Williams or any other major paint manufacturer, there's no doubt that choosing RCI Painting is the way to go.
Contact us now so we can make your HOA community or commercial building look like new. Our years of work in the Broward and Boynton Beach areas has made us the staple that you can trust. RCI Painting has the benefits that you're looking for.