Painting Your House?
Follow These Proven Steps to Get it Done!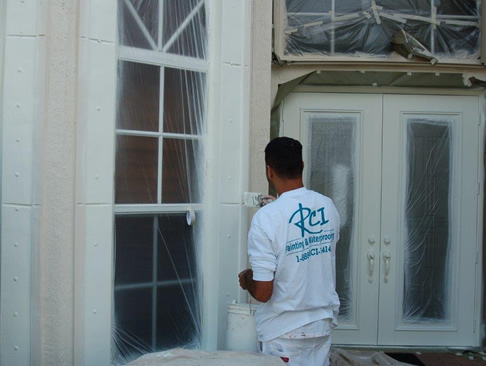 So you've been thinking about painting your house for a while now. As summer approaches, it seems like the perfect time to get it done, right? The weather is perfect and you'll be gearing up for lots of visitors and afternoon parties on the weekend. If so, we agree that it's time for you to brighten up your home with a new paint job.
Contrary to popular belief, painting a home takes planning, skill and effort. We know that on television and in magazines they make it look joyful and easy, but in reality there are certain steps that should be followed to ensure that your paint job looks good and lasts you a long time. We've formulated a list that will certainly help you as you tackle your painting project.
Out With the Old
If you're going to throw a new coat of paint on your home or office, you must first get rid of the old paint and remnants so that your job can last. Many people say that cleaning is the most important step because without it, you will simply be wasting your time. We advise using a pressure washer to save time and energy. However, you must be gentle and careful because it can cause some damage to your walls. The last thing you want to do is force water into the walls of your home. Dealing with water damage is not only frustrating but it is also expensive. When cleaning with a pressure washer, take your time and do it right. At RCI Painting, our professionals have years of practice in the field. If you're nervous about being able to get this done correctly, don't hesitate to reach out to professionals. At a company like ours, you can get expert help at an affordable rate.
Prep and Prime
After cleaning the walls of your home, you will move into the next stages of the painting process. While prepping and priming isn't necessarily fun, it is absolutely necessary. By using a paint scraper and a sturdy brush, you can remove peeling paint and loose caulking. If the old layer of paint isn't smooth at all, don't think about just throwing a coat of paint on the rigid surface. Instead, you should use a power sander to smooth out the rough patches so that your new layer of paint can be appealing and long lasting.
If you have many bare spots, a quality primer should be used. If you have time, you can prime the entire house. While this can be time consuming, it won't hurt to cover all your bases and get things done the right way once and for all.
It's Time to Paint!
Okay, so this is supposed to be the fun part. If you can, don't paint by your lonesome. Having a family member or friend on your side can help you get the job done faster and give you added security and support. For instance, if you take on the do-it-yourself-project alone, who's going to hold the ladder for you?
We advise using a wide paint brush and quality paint. Remember that all paint is not created equal. Before you jump into your project, do some research to ensure you have lasting paint that won't look less than appealing.
You should also remember to check the weather forecast. Naturally, you don't want to paint on a day when a major rainstorm is projected.
Remember, painting a house is a major project. So take your time and approach it as such. There's no reason why you should have to rush through a painting job. Formulate a plan that you can stick to and make painting something that is fun. Create a painting playlist with your favorite songs so that you can dance and really enjoy the experience. After all, perfecting your home should be something that's fun and not just tedious.
If you follow these steps, painting your home will be a walk in the park. Just remember to take your time and clean up properly after. We are wishing you luck and we can't wait to see your new paint job!