RCI Painting ( Rainbow Colors, Inc ) is fully licensed, bonded and insured (Workers Comp. and General liability $2 million) in Palm Beach, Broward and Martin Counties.
Since 1987, RCI Painting & Waterproofing ( Rainbow Colors, Inc ) has been servicing South Florida with dedication and pride as well as a reputation for outstanding customer service.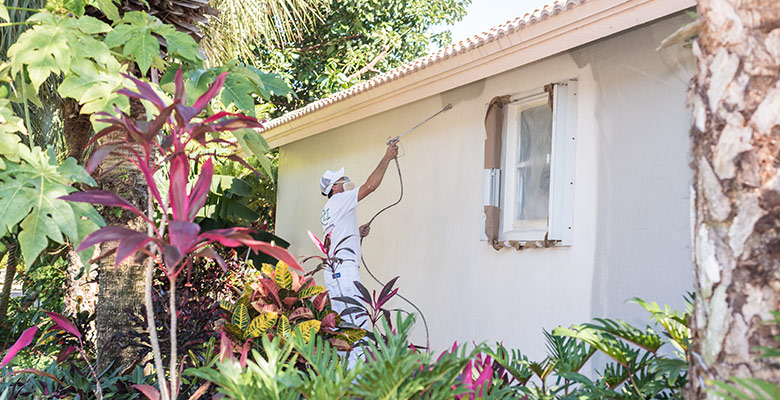 Testimonials
See what our clients have to say about RCI Painting.
"RCI Painting did a great job for our Community. They were especially helpful in scheduling, picking the appropriate type of paint (with an 8-year warranty against chipping) and helping us to choose the multiple colors we desired. The entire crew was always courteous, could be counted on to return to a location whenever a homeowner asked for a review of the work done, and they were careful to safeguard furniture, barbecues, flowers & shrubs, etc. In a Community of 74 free-standing homes, it is a rarity to have no significant complaints on any sort of major contractor job. RCI achieved that and we are planning to employ the company again for follow-on work." Art Feuerstein, President, Bermuda Isle HOA

Anyone who is a Property Manager knows the difficulties of the job and how critical a good contractor is to your success. RCI is one of those contractors. They are professional, trustworthy, responsive, accountable, personable and will do whatever it takes to satisfy the customer. When RCI is on the job I know I have one less thing to worry about which is huge in this profession. Thank you RCI and all of your truly dedicated employees.

I'm the President of Tequesta Trace and have been working with RCI for the past 6 years. In the past RCI has under multiple contracts painted the exteriors of all our buildings, all of the garaged doors, all exterior doors to the condo units as well as minor painting efforts of our directional signs and monuments. In the near future they will be painting our exterior perimeter wall to be followed later with the exterior of all our buildings again. TTCA Board has nothing but praise for their workmanship, leadership and ability to coordinate their efforts into our schedule, plus follow-up requirements on any of our concerns. With assurance we can recommend their efforts to anyone needing a reference for a good painting contractor.

I work for a Property Management company and have been dealing with RCI for several years now. As many of us know, it is difficult to find a contractor that shows up when they say they will, charge the price that is originally quoted, as well as return to the property if there are any issues. RCI is one of those rare contractors. They are always courteous and professional. If there is ever an issue with the work being performed (which is rare), they are always willing to work on a solution to make the customer happy. I highly recommend their company.

I am a Community Association Manager and have used RCI Painting and Fiddler on the Roof Pressure Washing on several properties. They are wonderful to work with. RCI hires professional people that work hard to make the property and manager look good. They stand behind every job they do. Call and ask for Adam Rovner. You wont be disappointed.