Hiring Painting Contractors?
Here Are 10 Questions that You Should Ask!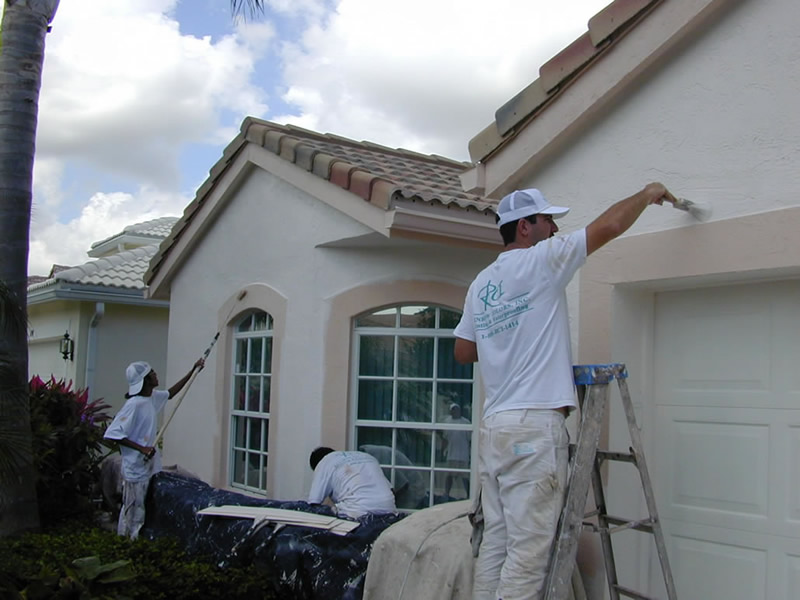 In our last blog entry, we gave you some quality tips to help you hire the painting contractor that's right for you. However, even after you make that major step and settle on an experienced and proven painting company, you will likely still have a ton of questions circulating in your head. Today, we are going to do our part to help guide you in the right direction and bring you even more clarity about your upcoming painting project. So as you begin to look forward to the next steps in this grand process, here are the 10 questions that you should certainly ask.
Are you licensed and insured?
This is an important question for various reasons. On one hand you want to make sure that you are doing business with a company that will actually show up and perform well. On another hand, you also want to make sure that you are covered in the unfortunate event that your property is damaged or someone is injured while working at your home. Don't be afraid to ask the painting contractor that you hire about things like worker's compensation insurance and a general contractor's license.
Will the cost fluctuate?
No. Once you get an estimate, the cost should not fluctuate unless you ask for additional services. If you hire painters to paint one room, don't expect them to paint an extra room for free.
What if I hate the color I chose?
Believe it or not, choosing the right color to paint your home or commercial building is arguably the most difficult part of this entire process. That's why it is crucial for you to work closely with the painting contractor to choose the color the truly evokes the message that you want to send once the project is completed. If you demand a company to repaint an entire room, it is going to cost you a lot of time and money. That's why you should take your time and make the right decision to avoid this predicament. Remember to expose the colors that you're considering to different lighting in various areas of your home. RCI Painting (Rainbow Colors Inc.) works with the top paint manufactures like Sherwin Williams and Porter Paints to ensure you get the specifications for your home and community.
How long will this take?
After visiting your community and presenting you with an estimate, a home painting company should have a pretty good idea of how long it should take them to complete the job. This is especially important if you have a major event coming up and you are in a hurry to get your home painted. Or maybe you recently committed to a commercial painting crew and you need your office painted in time for a major grand opening. Not only does this question give you an idea of how efficient the company will be, but it also places some pressure on them to get the job done in a timely manner. While you don't want to push the painters to the point that they rush your project, you do want to remind them that you have great expectations. RCI Paining will provide an on-site supervisor who will communicate with the property manager and keep the crew on track to make sure the job is completed on schedule.
Will you prime the walls in my house before painting it?
When you hire a seasoned company like RCI Painting, you can expect an extensive amount of prep work that will make the finished product that much more impressive. Essentially, a primer seals the surface and gives the finish paint something to grab onto. Additionally, a primer can prevent stains from exposing themselves in your new coat of paint. If you're concerned about this, don't be afraid to ask the painters about the steps they will take to ensure that your paint looks beautiful and last you a long time.
How often will I have to get my home painted?
This question is much more difficult to answer than many people think. The life of your paint depends on various factors such as your home's exposure to the sun, the amount of vegetation and moisture in your neighborhood on a yearly basis and even the kind of paint that is used. However, most experienced exterior painters will tell you that a good paint job should last anywhere from 5-8 years.
Do I have to be at home while you paint?
In most cases, an experienced company will simply make arrangements to paint your home while you're at work. If you feel uneasy about this, do additional research and ensure that the company hires employees who undergo thorough screening and background checks. This would be a perfect time to find out just how many painters it will take to get the job done.
Is there anything that I should do before you arrive?
While most painting contractors will take steps to protect your furniture, you don't want to just assume that they will. If this service isn't included, be sure to move all of your exterior furniture to the garage or in your home.
Who cleans this mess up?
Speaking of clean ups, will you have to spend a few hours removing tape from your windows and putting furniture back into its place once the project is done? Or are you hiring a full service painting contractor that will take care of all of this for you? Be sure to ask.
After painting, can I clean my windows right away?
If you're in a rush to get your home ready for a viewing or your commercial office ready for business, you may have a lot to do after the painting is done. Some people assume that once the paint dries, it's okay to do whatever they want. However, this is inaccurate. The paint needs a curing/healing process that could take a couple of weeks. So you should wait at least 2 weeks before using any chemicals and cleaning solutions that could affect the paint on the exterior of your home.